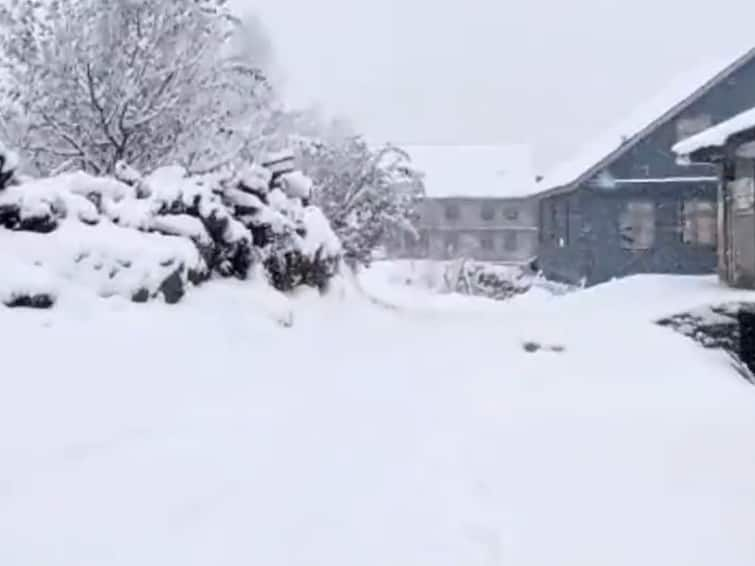 Weather update: Due to snowfall in the hilly states situated in the lap of the Himalayas, winter is now being felt in the plains. People have started feeling chilly in the morning and evening in entire North India including Delhi-NCR. Delhi-NCR has been witnessing a drop in temperature since the beginning of this week. There is fog in the morning and evening. Now winter may increase further, because rains have started in South India.
According to the Meteorological Department, it may rain with snow in all the hilly states including Ladakh, Jammu-Kashmir, Himachal Pradesh and Uttarakhand. These areas have been witnessing a drop in the mercury due to sporadic snowfall and rains for the past several days. The temperature in Kashmir has dropped a lot. People are facing problems due to heavy snowfall there.
snowfall in the mountains
The effect of snowfall on the mountains is clearly visible in the plains. There has been a sharp drop in the temperature in the plain states, due to which the winter has increased. Apart from Delhi, there may be a drop in temperature in other states as well. According to the Meteorological Department, the minimum temperature in Bhopal, the capital of Madhya Pradesh, is going to be 12 degree Celsius and the maximum temperature will be 28 degree Celsius. At the same time, the minimum temperature in Chandigarh has been estimated to be 9 degrees.
News Reels
Record breaking cold in Rajasthan
Winter has already started breaking records in Rajasthan. The night temperature is continuously falling. In many areas, there is a lot of fog in the morning and evening. In many cities including Kota, Bundi, Baran, the temperature has dropped up to 10 degree Celsius. Kota recorded a temperature of 8.5 degree Celsius last night. It broke the record of the last 11 years. This was the coldest night in 11 years.
Chances of rain in southern states
The Meteorological Department has expressed the possibility of rain in all the states of South India. Light rain has also started in many states. Due to rain in parts of South Karnataka, North Tamil Nadu and Andhra Pradesh, cold winds have started blowing towards North India. There is a possibility of rain in the coastal areas of Andhra Pradesh, Telangana and Goa. It may also rain in Lakshadweep and Andaman.
read this also- Shimla: You can also share happiness in this winter season, be helpful through 'cloth bank'