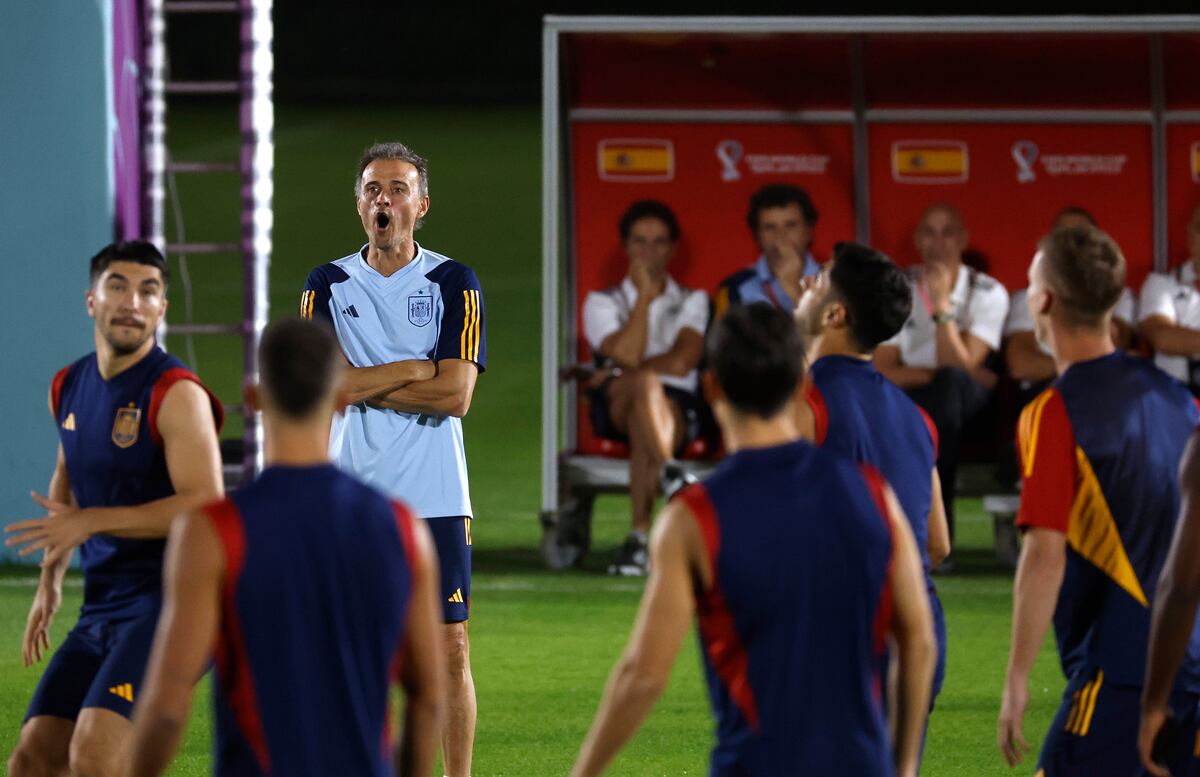 Spain will not take long to frame its reality. Germany will not measure you the same as Costa Rica. At the Al Bayt stadium, in the municipality of Jor, 50 kilometers north of Doha, a bone awaits the Red (La 1, World Goal, 8:00 p.m.). Because that is and has been Germany all its life, before and after losing to Japan (1-2). Luis Enrique, the Spanish coach, does not doubt it: "If someone knows how to compete it is Germany and if someone is prepared to change its dynamics it is Germany".
The Asturian coach has found himself in an unforeseen situation, because he did not expect "such a powerful version" at the premiere against the ticos (7-0). Such a sudden win that, somehow, has thrown Luis Enrique off balance. He has his reasons: "I feel better managing problems, I'm such an asshole; my Asturian nerve comes out better in bad times".
Knowing that praise weakens, the Spanish coach took it upon himself to remember that Germany "meets the requirements not to go with too much confidence." Otherwise "it can pass over you". Hence, the Red takes the challenge with caution. Germany, true, came out of the cat flap of Russia 2018, with a resounding bump in the group stage —it fell with Mexico and South Korea—, but its echo always forces us to be on alert. Four stars distinguish it. And there is no shortage of footballers with an extraordinary hierarchy, cases of Neuer, Kimmich and Müller, for example. And young people with great impact, like Musiala. And such established footballers as Rüdiger, Gnabry, Havertz, Gündogan, Goretzka… Germany has everything, even though Neuer, Müller and Sané have physical problems. In Spain, everyone shouting presents!
As Luis Enrique said on Saturday, the German team is the "most similar" to Spain, due to its intention to keep the ball and press in someone else's field. The Asturian said he foresees "an open match" against a rival with many variations.
Germany, for its part, will maintain its format. That's what Hansi Flick, the coach, said on Saturday: "We have to continue with our football beliefs, we must have courage and avoid being eliminated by any means." Flick praised Gavi and Pedri, "with fantastic quality for their age". None was in Lisbon in August 2020 in the Barça cataclysm against Bayern that Flick led (8-2).
Of course, Luis Enrique, nor in his popular and controversial streaming nor in his cumbersome appearance before the media, did he give clues about the lineup. "Zero" matters to him, because what is relevant is not the 11 initial recruits, "but the 16 who participate." "I don't have a line-up for each game, I vary depending on what I see in each training session. As a rule, "he added," I don't usually repeat … but I still change my mind tomorrow morning ". One of the big unknowns is Rodri's position, having a snack as a fake center back against Costa Rica. It will not be the same against Havertz and the rest of Flick's attackers. Rodri can give way to a pure central defender and advance his position along with Busquets. He is not a regular couple. Luis Enrique only twinned them as starters in the final of the League of Nations with France. If the duel with the Germans is taken as a final… A win would classify Spain for the round of 16, clear a contender for the throne and allow the coach to manage resources against Japan.
Spain and Germany will meet nine hours after Japan and Costa Rica have met. The result between the two will allow the Germans to assess how critical their situation is. A Japanese victory would force Hansi Flick's team to win. A draw with the Spanish would leave them one finger from the departure lounge for Germany, since on the last day Luis Enrique's team would only have to equalize with Japan. Even a non-scandalous defeat for La Roja at the end of the group stage would help them if the Germans do not come close to 7-0 against Costa Rica.
subscribe here to our special newsletter about the World Cup in Qatar
Subscribe to continue reading
Read without limits