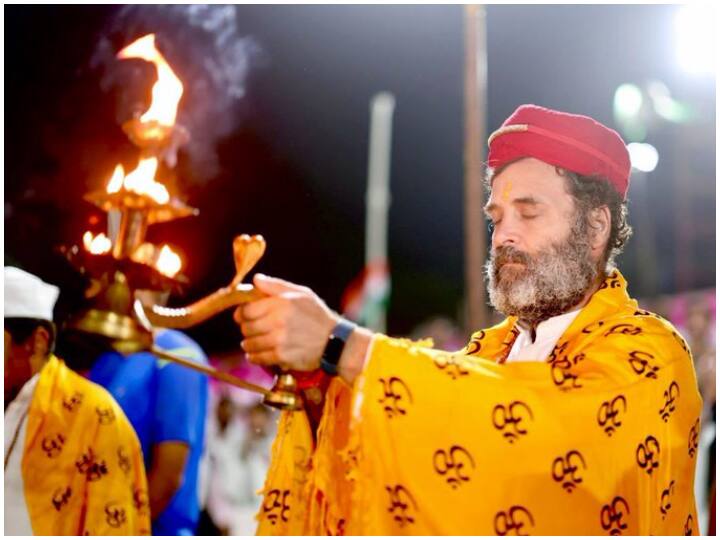 Rahul Gandhi Narmada Aarti Photo: Uddhav Thackeray faction's Shiv Sena leader Priyanka Chaturvedi has criticized Union Minister Smriti Irani for sharing an inverted picture of Rahul Gandhi's mother Narmada performing aarti in Omkareshwar, Madhya Pradesh. Rahul Gandhi shared a picture of himself performing the aarti on Friday (November 25) and wrote, "Today, had the privilege of worshiping Lord Omkareshwar Temple, one of the twelve Jyotirlingas, with the Narmada Aarti."
The priests of the famous Shiva temple placed a turban on Rahul Gandhi's head and wrapped a scarf with 'Om' written on his shoulders. Union Women and Child Development Minister Smriti Irani shared the picture upside down and wrote, "Ab tik hai." Subsequently, Shiv Sena leader Chaturvedi accused Irani of mocking Hindu rituals in an attempt to outdo Assam Chief Minister Himanta Biswa Sarma.
Have to outdo the Assam CM since Troll Tiara is being snatched away, so in an attempt to troll, lets mock Hindu rituals to retain the title and the Tiara. pic.twitter.com/Ti8I1WYlFH

— Priyanka Chaturvedi🇮🇳 (@priyankac19) November 26, 2022
News Reels
'Made fun of Hindu rituals'
Priyanka Chaturvedi tweeted, "Got ahead of the CM of Assam as the troll tiara is being snatched away, so in an attempt to troll mocks Hindu rituals to retain the title and tiara." Please tell that the Chief Minister of Assam had compared the bearded look of Rahul Gandhi to Saddam Hussain.
Congress spokesperson also reprimanded
On this whole development, Congress spokesperson Lavanya Ballal said in a tweet that the minister's "obsession and hatred for Rahul Gandhi has reached ridiculous heights." It is noteworthy that the 'Bharat Jodo Yatra' led by Rahul Gandhi reached Khandwa district of Madhya Pradesh on Friday. The former Congress chief had performed 'Maa Narmada' aarti at Omkareshwar along with his sister and party general secretary Priyanka Gandhi Vadra and her family members.
The Gandhi siblings held a 'diya' (lamp) while performing aarti with the priests at the Brahmapuri Ghat on the banks of the Narmada River. Rahul Gandhi also offered a 'chunri' to the river and then prayed at the famous Shiva temple, one of the 12 'Jyotirlingas' in the country.
read this also- Exclusive: 'Shraddha expressed apprehension in the letter, the same happened', father demanded CBI inquiry, said- Aftab used to blackmail