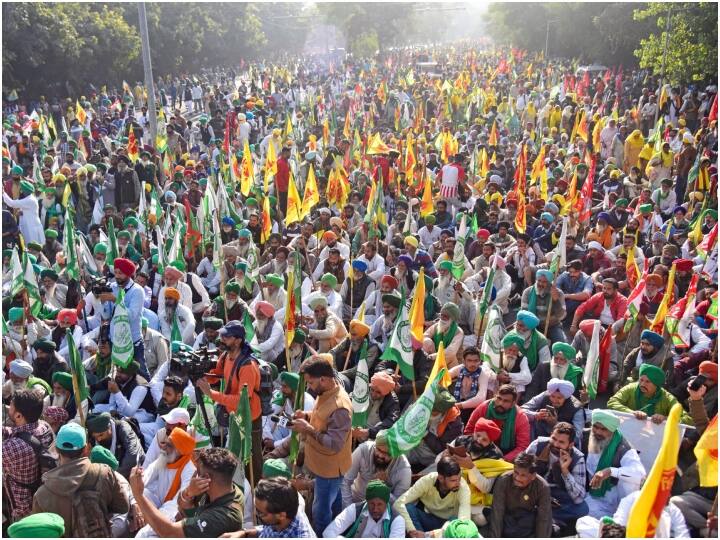 Samyukt Kisan Morcha News: Farmer organizations held 'long march' and rally in 25 state capitals on Saturday (26 November) on the occasion of the second anniversary of their protest against the three agricultural laws of the Center. United Kisan Morcha (SKM) gave this information. These agricultural laws were withdrawn by the central government. SKM said in a statement that lakhs of people have gathered in Chandigarh, Lucknow, Patna, Kolkata, Thiruvananthapuram, Chennai, Hyderabad, Bhopal, Jaipur and other capital cities.
The United Kisan Morcha has taken out these rallies alleging that the assurances of the Center on the pending demands of the farmers have not been fulfilled. The statement said that marches were taken out in 25 state capitals, 300 district headquarters and several tehsil headquarters. The SKM said in a statement, "On the call of the United Kisan Morcha, with the support of laborers, students, youth, women and common people, farmers took out a padyatra and took out a rally today." It is estimated that there were more than 3,000 demonstrations across the country.
More than 50 lakh people joined – SKM
SKM's statement said, "On the call of SKM, more than 50 lakh people joined the Raj Bhavan Chalo (March) to register a protest against the anti-farmer BJP government." At the same time, a memorandum of farmers' demand was also sent to the President through the Governors to intervene and stop the anti-farmer activities of the ruling party at the Centre.
News Reels
The movement started in 2020
Thousands of farmers started their agitation (Farmers Protest) against the three agricultural laws of the Center on this day in 2020. These mainly included the farmers of Punjab, Haryana and western Uttar Pradesh. A large number of farmers also died during this movement. About a year after the farmer's movement, Prime Minister Narendra Modi had announced the abolition of three agricultural laws on Gurpurab in 2021.
read this also-
Constitution Day 2022: United Kisan Morcha's Raj Bhavan March on Constitution Day in Shimla, demands MSP from Central Government