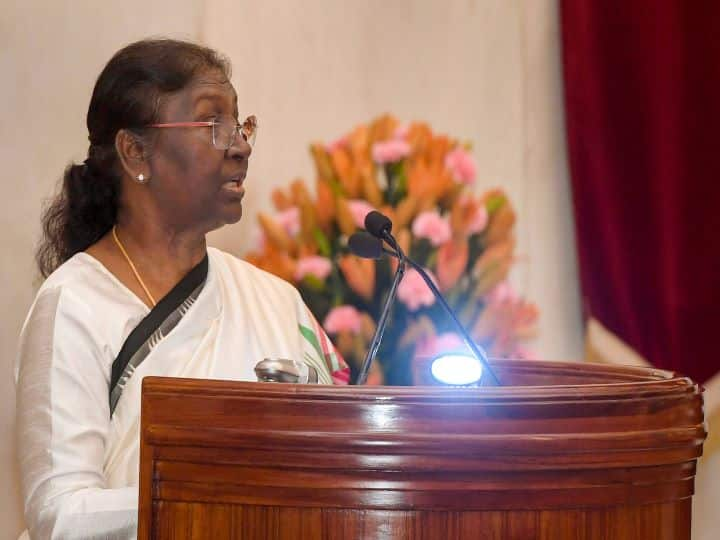 Draupadi Murmu:President Draupadi Murmu said on Saturday that the legislature, executive and judiciary need to have 'like-mindedness' for the country and its countrymen. Addressing the closing ceremony of the program organized by the Supreme Court on Constitution Day here, Murmu suggested reducing the number of prisoners in jails by helping poor people who have been languishing for years for minor crimes.
He said, "It is said that the crowd of prisoners in jails is increasing and there is a need to set up jails? Are we moving towards development? Then what is the need to build more jails? We need to reduce their number." Murmu said that now something needs to be done for these poor people who are in jails. "You need to do something for these people. Try to find out who they are.
Murmu became emotional while telling about the poor prisoners
The President said in an emotional way, think about those people locked in jail. Think for those who have been in jail for many years for slapping. They neither know their rights, nor the preamble of the constitution, nor fundamental rights or fundamental duties. No one is thinking about them. His family members do not have the courage to rescue him, because in fighting the case, even the utensils of his house are sold.
News Reels
The President said a big thing, "Those who end their lives roam outside, but the common man remains in jail for years for a minor crime. Who are these people, get their information, find out about them."
The poor consider only three people as God – Guru, Doctor and Lawyer.
Draupadi Murmu said, "I come from a small village, we villagers consider only three people as God- Guru, Doctor and Lawyer. Guru is in the role of God by giving knowledge, doctor by giving life and lawyer by giving justice." He shared his experiences of the assembly committee in his first MLA term. Expressed regret that his expectations did not come true, then also shared his experiences during his governorship.
Read also: 'A new era has begun', PM Modi congratulates on successful launch of PSLV C54 mission