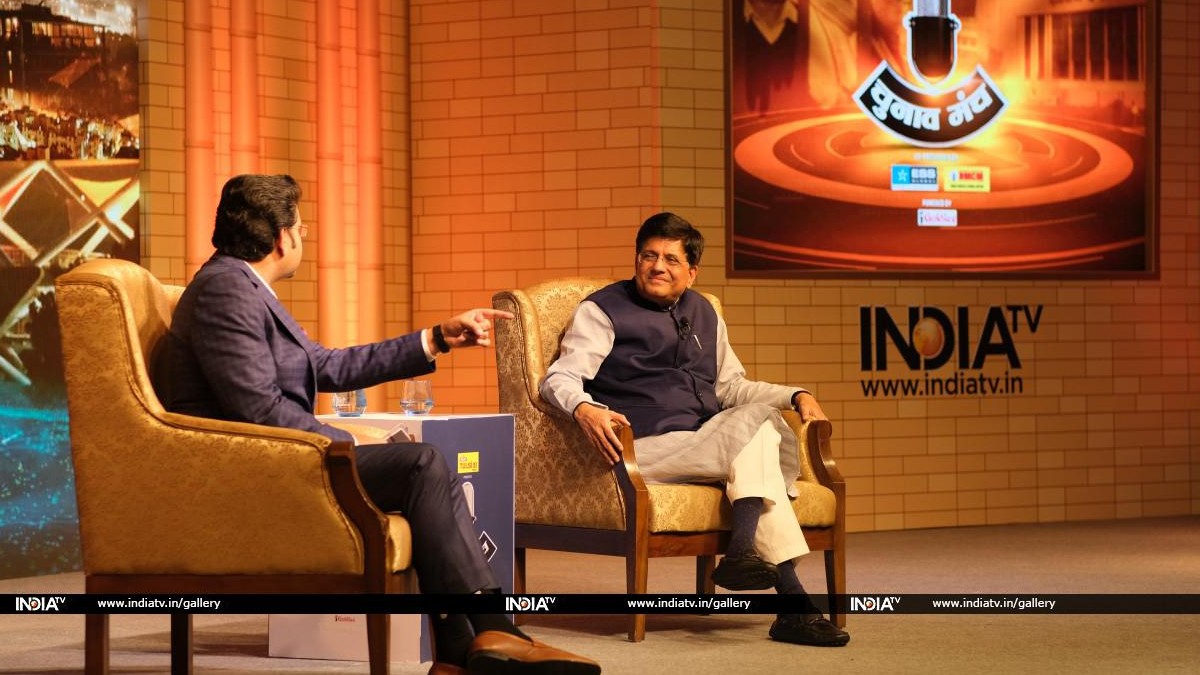 Leaders of several political parties participated in the 'Chunav Manch' program organized by India TV regarding the Gujarat elections. The leaders who came on the election stage spoke openly on the issues of the country and Gujarat. Many leaders including Union Minister Piyush Goyal, Smriti Irani, BJP Rajya Sabha MP Sudhanshu Trivedi and Gujarat BJP State President CR Patil attended the programme. At the same time, Rajya Sabha MPs from the Congress, including Mohammad Imran Pratapgarhi, Abhay Dubey and Alpesh Thakor, became many parties. Apart from this, many leaders including AIMIM Chief Asaduddin Owaisi also spoke on the election platform.
Let us know how all the leaders reacted to this day-long programme. Which is important to you and it is very important to know.
Home Minister of Gujarat targeted the Gandhi family
Gujarat's Home Minister Harsh Shanghvi, who came as the first guest of the election forum, said, 'I don't know whether anyone from my family will enter politics even after me, because I was not born in the Gandhi family. I was born in a middle class business family related to diamond business. I got a chance to visit every village of Gujarat with Bharatiya Janata Yuva Morcha. I keep doing politics and social work. I have said many times that at the age of just 27, BJP, especially Narendra Modi and Amit Shah gave me a chance to contest elections.
Home Minister of Gujarat spoke on Morbi
When questioned by India TV on the Morbi incident, Harsh Shanghvi replied, 'The Morbi incident was very sad and unfortunate. Immediately after the accident, Chief Minister Bhupendra Patel decided that a high level committee should investigate it. Shortly after the accident, a case was also registered, rescue work was also started rapidly. The first injured person in the accident was rushed to the civil hospital only 18 minutes after the incident. After the accident, all kinds of arrangements were made to provide relief to the people. The way the people of Morbi helped along with the government agencies is a role model for the country as none of the ambulances needed to apply a brake to reach the hospital which was 5 km away.
Belief in providing justice to all families
On the question of awarding the contract to a watch and bulb maker to build the bridge, Shanghvi said, "It was a historic bridge." He was the identity of the city of Morbi. The company had asked for it to run the bridge under PPP model, the government did not give any contract by taking money. He was given only to run the bridge. Proper agencies were responsible for repairing the bridge. I assure you that all the families will get justice.
Asaduddin Owaisi as our second guest after Harsh Shanghvi spoke and answered questions from India TV and the public. Let us look at some important parts of the conversation.
Owaisi's counterattack on Amit Shah's statement
On Amit Shah's statement of 'teach the miscreants a lesson in 2002', Owaisi said, 'The whole world knows the 2002 riots as a genocide. Thousands of people were killed in their own country after the Godhra incident. Many Muslim women were raped. Many people were killed, including Hindus as well as Muslims. I know how many people were troubled by that. If the Home Minister is talking like this, then he is justifying state violence. See how many superfast trains stop at Godhra railway station. A railway underbridge has been built in Godhra, but it is not opened because it will benefit the Muslims. Look at how many Muslim areas in Godhra the water pipeline has reached.
Why were the culprits of Bilkis spared?
Owaisi further said, 'If he is saying that lesson was taught, then why did he spare those who raped Bilkis Bano? When the convict of 92 Muslims in Naroda Patiya comes out on bail, he begs to vote for Modi. And you call that teaching a lesson?'
Now the stage of the program moved ahead. After this the election debate started between Purushottam Rupala VS Ami Yagnik.
Ami Yagnik surrounded Amit Shah
Reacting to Union Home Minister Amit Shah's statement that 'Congress only talks about riots', Congress MP Ami Yagnik said, 'Amit Shah is the Home Minister, he should speak with facts. I want to tell them that Congress did many things during its rule in Gujarat. The work of Congress in Gujarat speaks for itself. Industrial development took place in the state during the Congress rule. We got independence in 1947 and at that time many challenges were before us. Fighting all of them, we have reached here today. All the industries were already there in the state, and today they have grown so much on their own.
Purushottam Rupala targets Rahul Gandhi
On the issue of Rahul Gandhi's 'electoral Hindu', Purushottam Rupala said, 'I am in favor of not discussing such useless topics. But I am not able to understand what is happening to them with the arrival of Modi and Shah. I tell my people that they have been Ranji players, now they are playing at the national level. If Kapil Dev plays in Haryana, everyone cheers him. Who to keep the captain in our team, who to get the opening done, will the Congress decide this too?'
After Purushottam Rupala VS Ami Yagnik, former Gujarat Chief Minister Shankar Singh Vaghela spoke on the election stage.
'Marketing in the name of Ram Mandir'
On his statement that 'BJP is using Ram Mandir for marketing', Vaghela said, 'The person who knows BJP the most in this country is Shankar Singh Vaghela. Whom are these people fooling? These people do not use religion but misuse it.
After the departure of the former Chief Minister, Union Women and Child Development Minister Smriti Irani came on the stage and as soon as she came, she made a big statement about BJP's victory.
These important signs of victory
Speaking on the basis of BJP's claim of historic victory in the elections, Smriti Irani said, 'I think you will see the difference on the platform of the opposition. The Aam Aadmi Party office in Surat is locked outside. When the former Congress President came to Gujarat, his own leader refused to translate his speech. What better sign would you get than this?'
What is the problem with Rahul Gandhi?
Asked if she has any problem with Rahul Gandhi worshiping in the temple, Irani said, "I have no objection." Today, I am expressing happiness that those who used to roam in the skies, used to travel abroad, today Modi has brought them to the ground. Today he is walking in the public, his ego has been broken. Even after being in Parliament for 18 years, he says that he has to understand the country.
After the departure of the Union Minister, Waris Pathan faced questions from India TV. Many important questions were asked to him.
Waris Pathan's fight with whom?
Waris Pathan said, 'Our fight is with the BJP and the Congress. On one side, there is also a small recharge of Delhi. These people have taken maximum votes but you can see what is the situation in Gujarat? The accused of killing Muslims in Naroda Patiya is campaigning for BJP as his daughter has got ticket. The Gujarat government releases the rapists of Bilkis Bano on 15 August 2022.
After this Prem Shukla VS Imran Prapatgarhi came face to face
What did Imran say?
Imran Pratapgarhi is in Gujarat, but Priyanka Gandhi and Rahul Gandhi are not in Gujarat. What would you say on this? Congress Rajya Sabha MP and National Chairman of Minorities Department Imran Pratapgarhi told that all the people of Congress are contesting the elections together. People are contesting elections. The election is being fought against 27 years of misery.
Prem Shukla claims
BJP spokesperson Prem Shukla said that we will follow the constitution and the law. Congress says that AIMIM is our B team, which is wrong. This time we will break all the records and cross the 150 mark.
Heavy debate between BJP leader Sudhanshu Trivedi and Abhay Dubey from Congress.
Rahul Gandhi attacked
Sudhanshu Trivedi said about Rahul Gandhi that even in the last election, Rahul Gandhi was going from temple to temple. Priyanka Gandhi started performing aarti of Goddess in UP elections. Bengal Chief Minister Mamata Banerjee also started worshiping the Goddess. Kejriwal is also going to temples. Prime Minister Modi has changed this definition. That's why I would say that 'the government is visible in return'.
Abhay Dubey hit back
Congress spokesperson Abhay Dubey said that slowly the mask of BJP is coming off. 80 percent of Gujarat's children are suffering from anemia.
BJP state chief CR Patil kept his point
Why doesn't BJP give tickets to Muslims?
When CR Patil was asked that, in the election forum in the morning, Owaisi had said that in Gujarat, BJP should at least find a Muslim, to whom they should give ticket. On this, Patil said that if the Muslim candidate is capable of winning, he will definitely give the ticket.
Finally Piyush Goyal faced the questions on the election stage.
People trust PM Modi
The people of the country today believe in PM Modi. Today's youth do not know what curfew is. Because PM Modi fixed the law and order. PM Modi fulfills whatever he resolves. Achievement is accomplished by resolution. We do what we say.
take back to a time of rich culture
Piyush Goyal said that any country which runs with the mentality of slavery does not move forward. The PM said that we have to be made self-confident and self-reliant. Will do business as well as break the mentality of slavery. PM Modi had also said this on Independence Day. We are moving forward on that. We are a strong economy in the world. Ahmedabad was called the Manchester of India. The British put an end to it. Ahmedabad, Patola got recognition again. The country has to be taken back to the era of its rich culture.