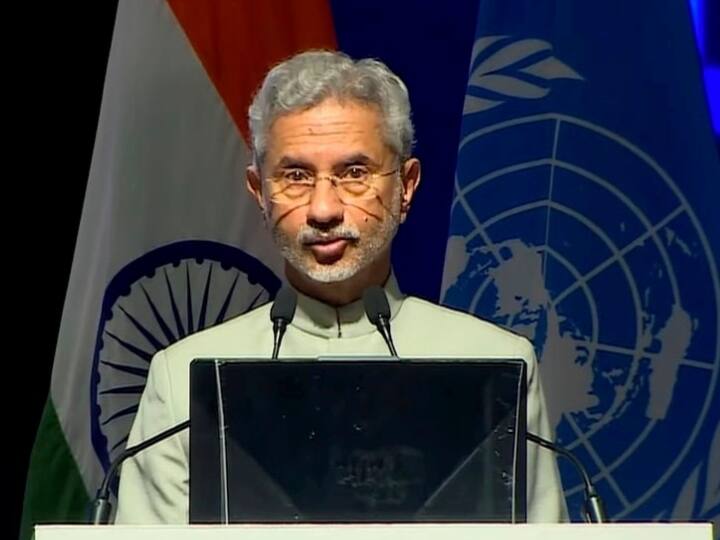 Modi Jinping Handshake Issue: There has been no change in India's policies regarding China. External Affairs Minister S Jaishankar has made it clear that Prime Minister Narendra Modi has always been very adamant on the issue of China and he should be judged by the strong deployment of our army on the India-China border. External Affairs Minister S Jaishankar said these things while dismissing the opposition's criticism of the Prime Minister joining hands with Chinese President Xi Jinping recently.
The Foreign Minister said that there are two realities regarding relations with China. The fact is that China is the second largest economy in the world, along with this it is the closest neighbor of India. Adding further to this, S Jaishankar said that it is also a fact that India has a difficult history with China, conflict and a huge border dispute. The Foreign Minister said that the right way to deal with China is that we should always stick to our stand.
India's stand on China is clear – S Jaishankar
Speaking at the Times Now Summit on Friday, the External Affairs Minister said that to deal with what China is doing, we have to take our troops to the border and that is what we should do. We have to talk publicly about the issues on which China does not support or undermines our interests. Where diplomacy is needed, it is always beneficial to talk openly. The External Affairs Minister also believes that the way leaders deal with diplomacy, its decorum should be maintained at international forums and that is exactly what happened in handshake with Xi Jinping.
News Reels
Modi shook hands with Jinping at the G-20 summit in Bali
Prime Minister Narendra Modi and Chinese President Xi Jinping shook hands at a side event at the G-20 summit in Bali earlier this month. The two leaders shook hands in a live video feed to the media from a welcome dinner hosted by Indonesian President Joko Widodo for G20 delegates.
There is no basis for criticism regarding handshake
Foreign Minister S Jaishankar said these things while answering a question related to the criticism from the opposition parties of joining hands between the two leaders. He said that India is a free country and here people have the right to say anything. Those who do not understand responsibility, they are also free to speak whatever they want without thinking. Responsible people will understand how the leader of India should behave.
The Foreign Minister said that it is not right to link the etiquette of shaking hands with India's attitude towards China. The Prime Minister has always been adamant on China. The Prime Minister has been very clear on this issue and has shown it not only with words but also with his actions. From 2020, the efforts made to maintain such a huge army on our border have to be understood. This is a huge task.
India's emphasis is on strengthening the border
On future relations with China, External Affairs Minister S Jaishankar said that there are structural long-term challenges regarding China. Earlier it was not taken seriously. Today we are talking about sending troops to China border but, 10 years ago people used to say that sending army is not the best way to strengthen the border.
The Foreign Minister said that now this is the best way to deal with this challenge. How India prepares for the world depends on how much we develop infrastructure on our border and how much more capabilities we build within the country. Both these issues are not related to being against anyone.
read this also: UN urges China to release Uygar Muslim prisoners, also demands compensation