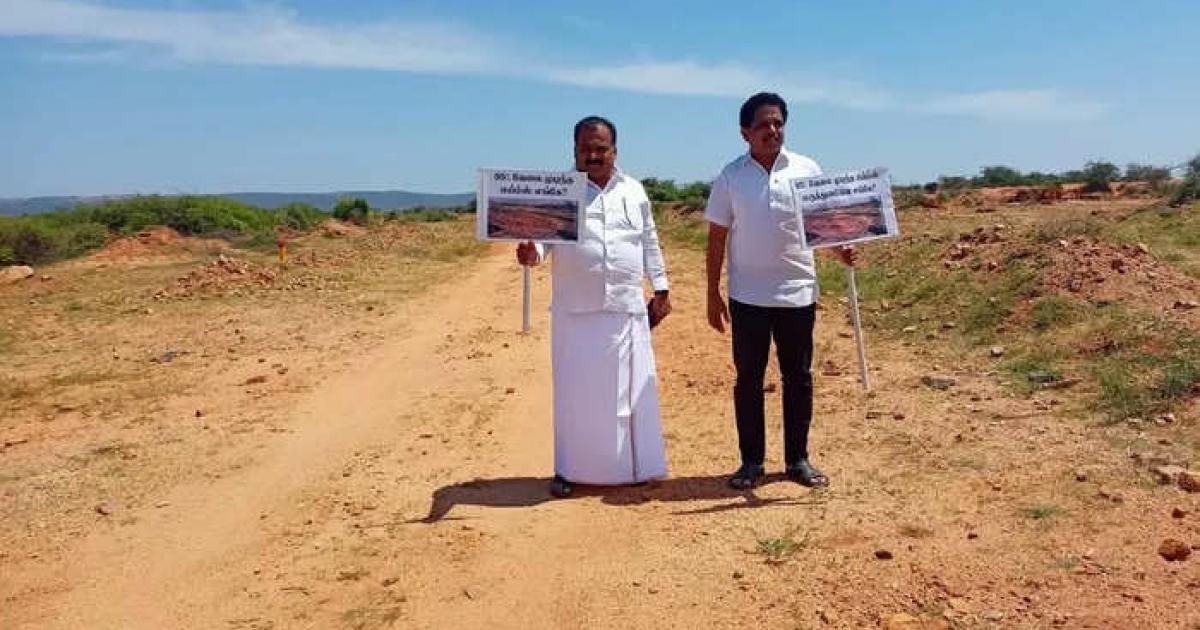 Madurai AIIMS, which BJP President Nadda claimed was 95% complete. Opposition MPs are showing the reality of the same. photo courtesy
Our country knows such an advanced technology of building construction, with the help of which we can construct buildings that will never collapse. Not only buildings, bridges, roads, ponds etc. can be constructed with this technique. This art of building construction has been discovered only after independence. And this technology is known only to our country. There is not even a clue about it in the foreign countries.
Everything has not been discovered only after 2014, not only after new independence. Hey, Brother! Some things have been discovered by the previous governments as well. To give the credit of all the discoveries to the government, to the government's government only, is to deny the contribution of the previous governments. The previous governments too must have done something or else they were sitting waiting that whatever they will do, the government will come and do it.
This technology was invented by the previous governments but their government is also reaping the benefits. The government is also making use of that useful discovery. And the government has taken that technique of building construction further.
The technology, which was discovered by the previous governments, and which is now being taken advantage of by the government, is a technology in which construction is done only on paper. In that technique, construction work is done only on paper, it is done in files. The site remains as it is. This modern technology of construction is available only in our country.
This technique is special. In that technique, the earlier phase remains the same as it remains in the old technique. As before, a plan is made, discussions are held on the plan, a file is prepared, notings are made on it and then the money is allotted. Money gets spent too. If there is no bus, then construction work does not happen, construction does not happen. Whatever construction is done, it is done only in the files or it is done in the public meetings of the politicians. The specialty of this technique is that everything can be made with this technique.
During the tenure of earlier governments, this technology was not so advanced. Only small things were made. For example, if a pond was made somewhere earlier, if there was more doubt, a new file was opened and a pat was also given to it. Somewhere some made a road connecting the small and big villages and then washed it away in the next rain itself. But the government has made this technique more advanced. Now big things are being done with this technology. Recently, with this technology, the government has also built an AIIMS in the far south, in Madurai. The national president of the world's largest party has recently announced the completion of its ninety-five percent work in a public meeting.
Constructions made with this technique, whether large or small, are not visible to anyone except ardent patriots. To liars they are not visible at all and to true patriots they are visible in abundance. Now see, the same thing happened in the case of Madurai AIIMS, didn't it? Two MPs of false and anti-national parties did not see those buildings of Madurai AIIMS and they reached the construction site with placards. Aji Sahib, first become a true citizen of the dark city of Chaupat Raja's kingdom. Then you will also see clothes made with this new technology and buildings will also be visible.
One specialty in the construction done with this technique is that the bridges, roads and buildings made with this technique never collapse. How will you fall? When they are not made at all. It is only under the government's rule that progress has been made that even repairs are being done with this technique under the government's rule. The Morbi bridge was repaired with this technique only.
This technique, to make roads in files, to build bridges in files, to make ponds in files, it is good for making new things but not good for repairing. Even if repairs are to be done with this technique, only those things should be done which are made with this excellent technique only. This was the only mistake made by the government, repairing the bridge made of old technology with new technology. The bridge of Morbi was repaired in just files.
(The author of this satirical column is a doctor by profession.)