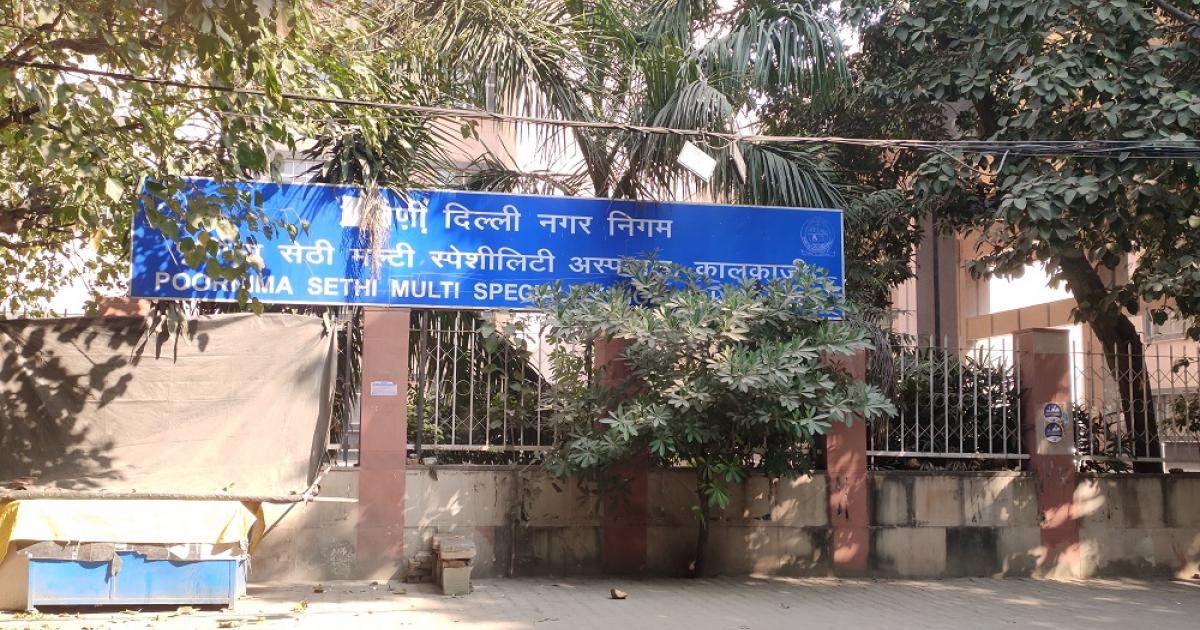 The important issue of health is almost missing from the municipal elections of Delhi. In the last assembly elections, where the Aam Aadmi Party was presenting its mohalla clinic as an example of its success, in this MCD elections, it is certainly asking some questions to the BJP about the condition of the corporation hospitals, but it is also of its own. Not the main issue. Although the condition of MCD hospitals in Delhi is not hidden from anyone, the news of the strike of its employees and the collapse of any part of the dilapidated building remains in the headlines.
In view of the corporation elections 2022, the Newsclick team visited Dr. Purnima Sethi Multispeciality Kalka Ji, the only corporation hospital in South Delhi, to know more about the health services and treatment available here.
It has been only a few years since this hospital was built, although its dilapidated condition can be understood as soon as you enter inside the gate, broken windows-doors, dusty registration desks, heaps of filth all around, the poor condition of this hospital Keeps the picture in front of you very well. The basement of the hospital is submerged in water, then there is a garbage house next to its first gate, where both wet and dry garbage can be seen in large quantities. Apart from this, its foul smell will force you to run away from here.
only OPD facility in multispeciality hospital
OPD facility is available in this multispeciality hospital only from Monday to Saturday, apart from this there is no arrangement for emergency, surgery or investigation. You will get to see a big board of dialysis at the gate, but the people getting treatment here told Newsclick that dialysis is not done properly here and money is also taken separately from them. Apart from this, medicines are rarely available in the hospital, most of the medicines have to be taken from outside.
Suresh, who sets up a small shop near this hospital, says that in 2015, this hospital was inaugurated by former Union Minister Arun Jaitley. In the beginning it was said that it will be a 100-bed hospital, here along with OPD, other necessary tests like X-ray, dialysis, dengue-malaria, blood, urine test will also be done, which will benefit more than 10 lakh people. But after the inauguration, this hospital has never been fully opened till date, nor did anyone get all these facilities. The hospital, which was partially operational, happened only after a year.
The hospital is running only on God's trust!
We talked to some people working in the hospital, who told on the condition of anonymity that this hospital is running only on God's trust, here you will not get any special treatment other than cough and fever. Doctors are also sometimes two-four, and sometimes eight-ten. There is a provision to give free medicines to those who come here, but when there are no medicines in stock then how can they be given medicines. There is no one here to take care of the filth on both sides of the hospital.
Here a person suffering from fever told that he is ill for the last one week, but even after visiting here several times, his number has come today. They say that the OPD opens after 9-10 in the morning and then closes till 12-1 in the afternoon. Most of the people here get their number set by the medical staff, due to which the common people do not get anything even after standing in line for hours.
Common people away from basic facilities amid allegations and counter-allegations
It is worth noting that recently Aam Aadmi Party MLA Atishi had accused the ruling party regarding this hospital and said that the Purnima Sethi hospital being built in Kalka ji is a new and bigger manifestation of BJP's corruption and misrule of the last 15 years in MCD. Has become a symbol, whose work has not yet been completed. In the year 2005, MCD started building this 100-bed multispeciality hospital. A total of Rs 6 crore 70 lakh was to be spent on its construction, but even today in 2022, this hospital has not been ready, while the MCD has spent Rs 35 crore on it so far. However, in response to this, the MCD has also retaliated against the AAP government of Delhi for not providing funds on time. In a statement, the corporation had said that the cost of its construction was kept at Rs 20 crore but after delay due to various reasons, it has been revised to Rs 52 crore. The Delhi government still has to pay Rs 13 crore towards the medical (plan) item.
However, due to the dilapidation of this hospital amid allegations and counter-allegations, a large population is away from basic health facilities. The MCD may blame its failure on the current AAP government in Delhi, but one fact is that the AAP government has been in Delhi for eight years and the BJP in the MCD for 15 years, so it is bound to be questioned.
Social activist Ashok Agarwal, who drew the attention of the Delhi High Court to the poor system of MCD hospitals, told NewsClick that the annual budget of the municipal corporation is Rs 15,000 crore, out of which Rs 1,500 crore has been allocated for public health. So lack of funds is an issue but in the context of the corporation, the bigger issue is corruption and poor governance." There are two ways to improve the bad system of hospitals. Representatives of governments usually talk about privatization. It will be like a disaster for the common patients. We have seen many examples where hospitals became private property of Dhanna Seths. Now the second option is to hand over the administration to the nearest government. In the context of this hospital, an initiative was taken to the Central Government where it was to be handed over to Safdarjung Hospital but the matter did not materialize. If the hospitals are handed over under the Delhi government, there can be some hope of improvement in administration."