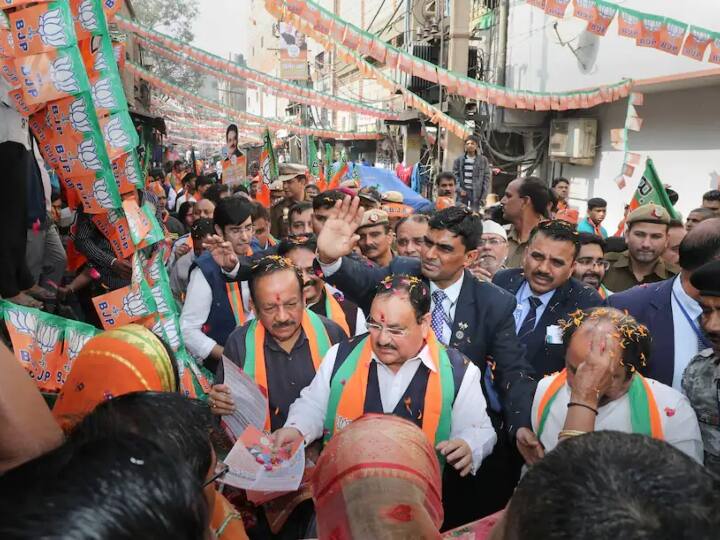 MCD Election 2022: Only a few days are left for the election campaign of the Municipal Corporation of Delhi. In these remaining days, BJP is trying to reach out to maximum number of voters so that for the fourth time also BJP can win in MCD. For this, along with Nukkad Sabha and Padyatra, it is going to hold a road show again on 30th November. Many central ministers, chief ministers of BJP-ruled states and big BJP leaders will be involved in this.
BJP put full force in the remaining days of campaign
Although the election in the capital Delhi is the election of Municipal Corporation of Delhi i.e. MCD, but BJP has put its full strength in it. First door to door campaign, then road shows of 14 big leaders, mass public relations campaign, street meetings, street plays, flash mobs and digital campaigns and now once again on 30th November BJP is going to do 14 big road shows. BJP Union Minister, National Officer, Chief Minister and MP are included in these roadshows.
Big leaders of BJP will be involved in the campaign
News Reels
According to BJP sources, on November 30, Union Ministers Nitin Gadkari, Bhupendra Yadav, Anurag Thakur, Narendra Singh Tomar, Hardeep Puri, Dr. Jitendra Singh will be involved. At the same time, Uttarakhand Chief Minister Pushkar Singh Dhami, Himachal Pradesh CM Jairam Thakur and Haryana CM Manohar Lal Khattar will be involved. Apart from this, national leaders like Radha Mohan Singh, Sushil Modi, Sambit Patra will also do road shows. Apart from these, the seven MPs of Delhi and all the leaders will also participate in it.
BJP's initial campaign
BJP also started its election campaign with a roadshow of big leaders. Apart from National President JP Nadda, many big leaders participated in this. BJP is also doing its Door to Door Campaign, Maha Public Relations Campaign, Road Show and Nukkad Sabha in Delhi, in which Chief Ministers, Ministers, MPs and Central Ministers of many BJP states are participating. Apart from this, BJP is campaigning through street plays, flash mobs and social media.
BJP is in power in MCD since last 15 years. In such a situation, in the last days, BJP is putting all its strength so that it can win for the fourth time as well.
read this also: MCD Election: 12 hours, 250 wards, 100 big faces of BJP campaigned, Nadda said – Sisodia should count only two works