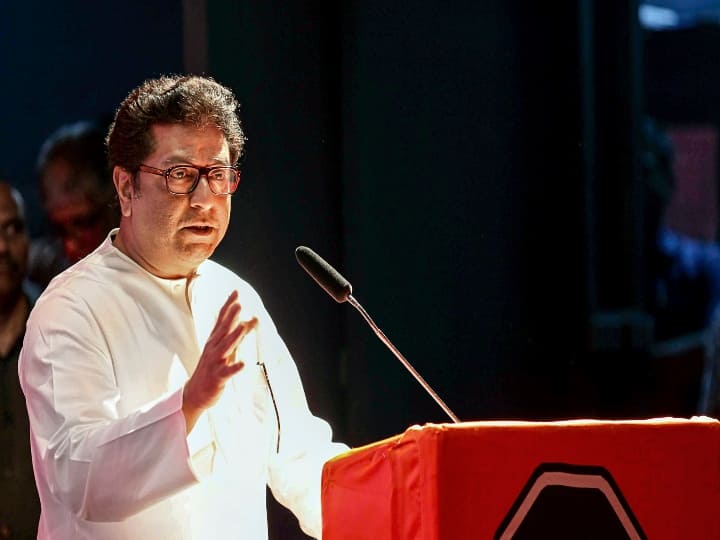 Loudspeaker Row: Maharashtra Navnirman Sena President Raj Thackeray has again shown an aggressive attitude in the case of loudspeakers installed on the mosque. He told the workers that, if the loudspeakers are not removed from the mosque in a few days, then take the truck and play Hanuman Chalisa. Raj Thackeray had reached Nesco Ground in Goregaon on Sunday and was addressing all the booth heads and workers of Mumbai before the BMC elections. The MNS chief said that the loudspeakers on the mosque were removed because of the MNS agitation.
Raj Thackeray told the booth heads and workers of his party that wherever you see loudspeakers installed illegally on mosques, you should go to the police station and file a complaint. If the police does not listen to your complaint, then play Hanuman Chalisa on loudspeaker even outside the police station. He said that it was Balasaheb Thackeray's wish to remove the loudspeakers installed on the mosque, we fulfilled his wish. Where were all these people who call themselves Hindutvaists at that time.
Shinde waved the magic wand, the former CM came out of the house
Raj Thackeray strongly attacked Uddhav Thackeray, former Chief Minister of Maharashtra and President of Shiv Sena Uddhav. Raj Thackeray said that those who were sitting at home citing illness while holding the post of CM, have started roaming outside today. This is because CM Eknath Shinde has waved a magic wand, due to which the people sitting in the house have come out. Taking a jibe at Uddhav Thackeray, Raj Thackeray said that he makes an alliance with anyone for money. Their aim is that the money should just keep coming.
BMC elections may be held in February-March

BMC elections may be held in Maharashtra next year in the month of February or March. Regarding the election, Raj Thackeray addressed all the booth heads and workers of MNS in Mumbai and said that today more than 16 years have passed since the formation of Maharashtra Navnirman Sena. In these 16 years, we have completed whatever work we started the movement for. Our strike rate has been 100 percent.
Media defamed
Raj Thackeray said that we worked for the people of Maharashtra. Always fought for the employment of Marathi youths. Our people tried to talk to the candidates who had come from Bihar to take the railway examination. In return, our people were abused. After that our workers were agitated. This whole incident was shown by the media that Raj Thackeray is anti-North Indian.
Raj Thackeray said that thousands of Marathi people got jobs in the railways due to a railway movement. We agitated that why the question papers do not come in Marathi. After this the question paper started coming in Marathi.
He said that in 3 to 4 months, 2 big industries moved from Maharashtra to Gujarat, which is not correct. On that, Governor Bhagat Singh Koshyari says that if Gujaratis and Marwaris leave Maharashtra, there will be no industry here.
In the case of Savarkar, Raj Thackeray said that, Savarkar apologized, this is correct. But he had a plan behind apologizing to the British. After being in jail for 50 years, he made a plan and by apologizing under the plan, he considered it more important to work for the people and their interests. So what's wrong with it.
Also read: 'Mike was switched off in Lok Sabha whenever I tried to speak on GST…corruption and demonetisation', alleges Rahul Gandhi