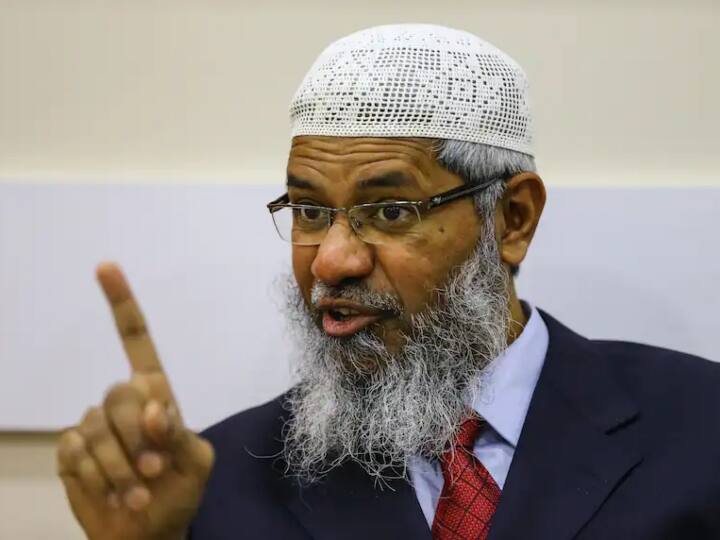 Zakir Naik in Qatar FIFA World Cup: India has slammed controversial Islamic preacher and fugitive Zakir Naik for allegedly arriving at the ongoing FIFA World Cup football tournament in Qatar. Zakir Naik is accused of money laundering, inflammatory speech and terrorist activities. He is absconding from India and currently his residence is in Malaysia.
Al-Hajri, the anchor of Qatar's official sports channel Alkas, had recently informed through social media that Sheikh Zakir Naik will be in Qatar during the tournament and in the meantime he will give religious lectures. Although the Qatar government has denied that Zakir Naik was invited, he has reportedly been seen in the capital Doha.
What did the Ministry of External Affairs say
The Government of India has shown a tough stand on the information about Zakir Naik being in Doha. On Thursday (November 24), Ministry of External Affairs spokesperson Arindam Bagchi clearly stated that Zakir Naik is an accused and proclaimed absconder in the Indian legal system. As far as Zakir Naik's participation in the FIFA World Cup is concerned, this issue has been taken up with Qatar. Qatar has informed India that Zakir Naik was not invited to participate in the FIFA Football World Cup.
News Reels
Union Minister Hardeep Singh Puri had said on Tuesday (November 22) itself that India will take up Zakir Naik's case with the concerned authorities of Qatar in 'strong words'.
'Naik will be brought to justice'
Foreign Ministry spokesman Bagchi said that the matter has also been raised in front of Malaysia for Naik's extradition. India will continue to make efforts to bring Naik to justice. Naik should be brought under the legal system and India is taking whatever steps should be taken for this.
Explain that in 2016, the Anti-Terrorism Agency NIA had registered a case against Zakir Naik. Since then he is absconding. He had reportedly fled India in 2016 itself to Malaysia, where he has got permanent residence. India has raised the issue of Naik's extradition in front of Malaysia.
Also Read – SC Collegium: Recommends Transfer of 7 High Court Judges! The name of the Gujarat HC judge whose transfer was opposed