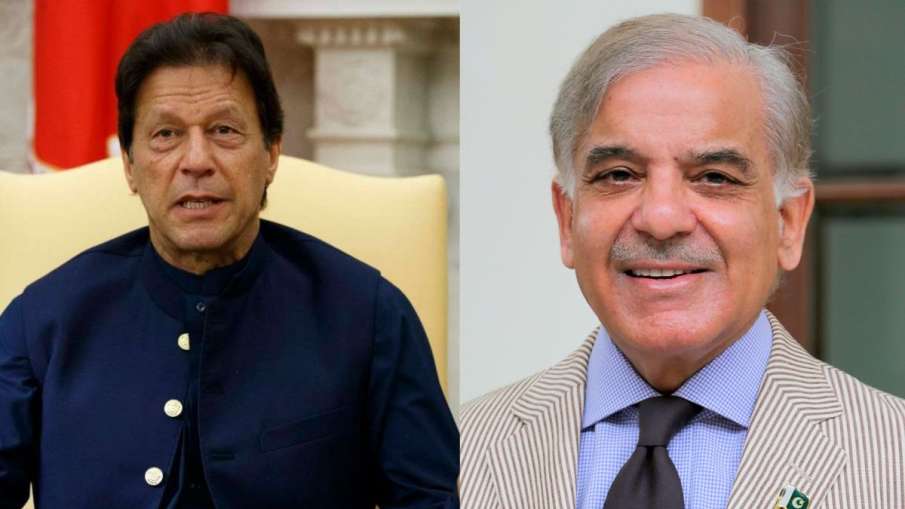 Pakistan is Begging From World: The video of former Pakistan Prime Minister Shahbaz begging from UAE has gone viral on social media, in which he is saying that "just two days ago I have come through UAE. The President of My elder brother Mo. Bin Zayed treated me with great love and affection. I had earlier decided not to ask him for money, but then I decided at the last moment and mustered up the courage to ask him for money. I told the President of the UAE That you are my elder brother and I am very ashamed, but I am helpless. You know my situation. That's why you give me one billion dollars more." Is going viral on social media. After this, taking cover of this, former PM Imran Khan has also targeted Shahbaz.
Imran Khan has said that today Pakistan is begging in front of the world. He is begging everyone. Prime Minister Shahbaz Sharif has created such a situation in the country. He says that today Pakistan is embarrassing the whole country by accepting its mistake and defeat even in the war with India. Imran said that Pakistan is saying that we have fought with India and learned a lesson by losing that nothing good can happen from this. By fighting the war, we have only increased poverty and hunger in our country. Shahbaz Sharif is seen saying in the video that India is our neighbor. We want to establish peace through dialogue. Imran Khan is condemning this statement of Shahbaz. He has tweeted that on one hand India is roaring in front of the world and on the other hand Pakistan is roaming around the world begging and it is embarrassing the whole country by considering the war with India as its mistake.
Pakistan has begged from many countries
Poor Pakistan has begged for mercy not only from UAE but also from many other countries including America, China, Russia, but till now it has got only a bunch of assurances. That's why the people of Pakistan are forced to die of hunger. People are suffering due to inflation. Lakhs of people are forced to sleep hungry every day. Pakistan's staunch friend China is also not helping it. Due to this, hunger is increasing in Pakistan. That's why now strong and lofty India is being praised in the social media. The people there are feeling embarrassed by calling their own country a beggar. PM Shahbaz Sharif is being criticized for begging from many countries and he is being held responsible for creating such a situation in Pakistan.
food and drink in pakistan
Pakistan's economy has completely collapsed. Now he doesn't have a penny left. There has been a famine of flour, pulses, rice, vegetables, oil and other food items. Even after the price has skyrocketed, its availability is not happening. That's why Pakistani people have become helpless to steal things like flour and pulses and eat by snatching from each other. Many such videos are going viral from Pakistan, in which he is seen snatching and stealing flour, pulses or other food items from his people. Pakistan's foreign exchange reserves are completely empty. Institutions like the International Monetary Fund and the World Bank have already refused to give loans in view of its poor rating. In such a situation, the condition of Pakistan has become bad. There, along with food, the energy crisis has also deepened. Cities like Lahore and Karachi are facing blackouts for more than 12 hours.
PM Modi became a hero in Pakistan
In Pakistan, Indian Prime Minister Narendra Modi is being projected as a hero and a bully on social media. Pakistanis are not tired of praising the way PM Modi has taken India forward on the path of progress and has played India's stun in the whole world. Even with India's strong economy, the people of Pakistan are trying to show the mirror to the leaders. PM Modi's strong global leadership and his influence is being appreciated all over the world.
Latest World News