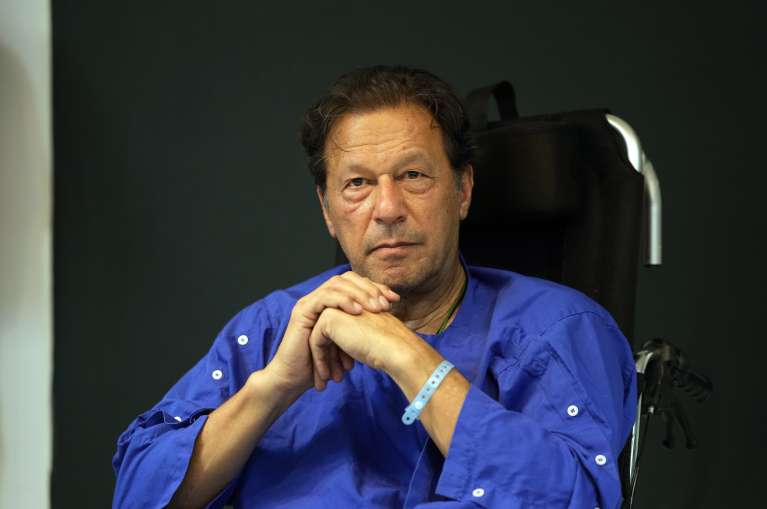 Pakistan Ex PM Imran Khan: Pakistan's former prime minister Imran Khan on Saturday alleged that "three criminals" involved in the failed assassination attempt on him earlier this month were on the lookout to target him again. Addressing a large rally of his party Pakistan Tehreek-e-Insaf in Rawalpindi, Khan said he had a close encounter with death and saw bullets passing over his head during the attack on him. The army also has its headquarters in Rawalpindi.
In his first address to party workers after the attack, Khan alleged that "three criminals" were on the prowl to attack him again. Khan, 70, has repeatedly alleged that Prime Minister Shehbaz Sharif, Interior Minister Rana Sanaullah and ISI's counter-intelligence wing chief Major-General Faisal Naseer were behind the attack. Khan exhorted his supporters to be unafraid of death if they wanted to live freely. "Fear enslaves the whole country," he said, referring to the Battle of Karbala. In Karbala, Imam Hussain, the grandson of Prophet Muhammad, and his family members were killed because they rebelled against the tyrannical ruler of their time. Voice was raised. Khan arrived in Rawalpindi on Saturday by a helicopter. A team of doctors was also with him.
If you want to live, you have to leave the fear of death
Former Prime Minister Khan said that when he was leaving Lahore, everyone advised him that he was still injured, so he should not go because it could be dangerous. Khan said he stepped forward because he had seen death from close quarters. "If you want to live, give up the fear of death," he said. Khan said the nation stood at a "pivotal point" and a "crossroads" before which there were two paths – One is of blessings and greatness while the other way is of humiliation and destruction. He is leading the 'Long March' demanding early general elections in the country.
Latest World News