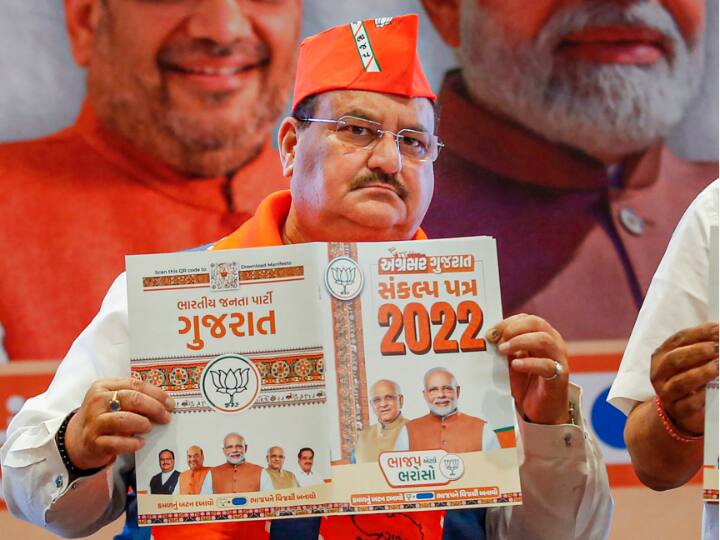 Gujarat Election 2022: BJP releases its Sankalp Patra for Gujarat Assembly Elections, announces plans for revival of temples including tough laws for anti-national elements, besides schemes for common citizens, students and even elders and women Is. Gujarat is considered to be a successful laboratory of Hindutva, so BJP has again pushed forward the agenda of Hindutva in Gujarat.
In its Sankalp Patra, the BJP has made a provision of 1000 crores in its Sankalp Patra for the renovation of all the temples in Gujarat on the lines of the revival of Kashi Vishwanath Temple to Kedarnath Temple. In the agenda of BJP, the redevelopment of the temples of Gujarat has expressed its resolve to give them a grand and divine look. BJP President says that this budget can be increased even more according to the need.
Announcement of "Anti Radicalization Cell"
Uniform Civil Code is also at the top of BJP's Hindutva agenda, it has been said in the Sankalp Patra that it will be implemented soon, the government has already announced a suggestion committee to implement Uniform Civil Code Has gone. An "Anti Radicalization Cell" has also been announced in the Sankalp Patra to deal with the fundamentalist communal elements, ABP News has been told that an "Anti Radical Cell" will be formed at the state level to deal with the growing radicalization.
News Reels
BJP President JP Nadda said that along with the country, Gujarat is also battling radical elements. Anti Radicalization Cell The radicalized elements will be deradicalized and added to the main stream. This "Anti-Radicalize Cell" will work at the state level through the Intelligence Unit to prevent radicalization done in public apart from social media.
Why the need for Anti Radicalize Cell in Gujarat?
Gujarat is a frontier state. Along with the security on the border, internal security is very important, so it has been announced in the manifesto to make strict laws to deal with communal and anti-social elements. The Gujarat government will bring a strict law to compensate communal elements and anti-social elements for damage to public property. This is being done so that such anti-national and anti-social elements are not only punished severely, but they also become financially weak after paying damages, so that during riots and demonstrations, violent elements can do ten times before damaging public property. Think.
read this also: BJP Manifesto: BJP's bet in Gujarat elections, made this big promise regarding Uniform Civil Code in the manifesto