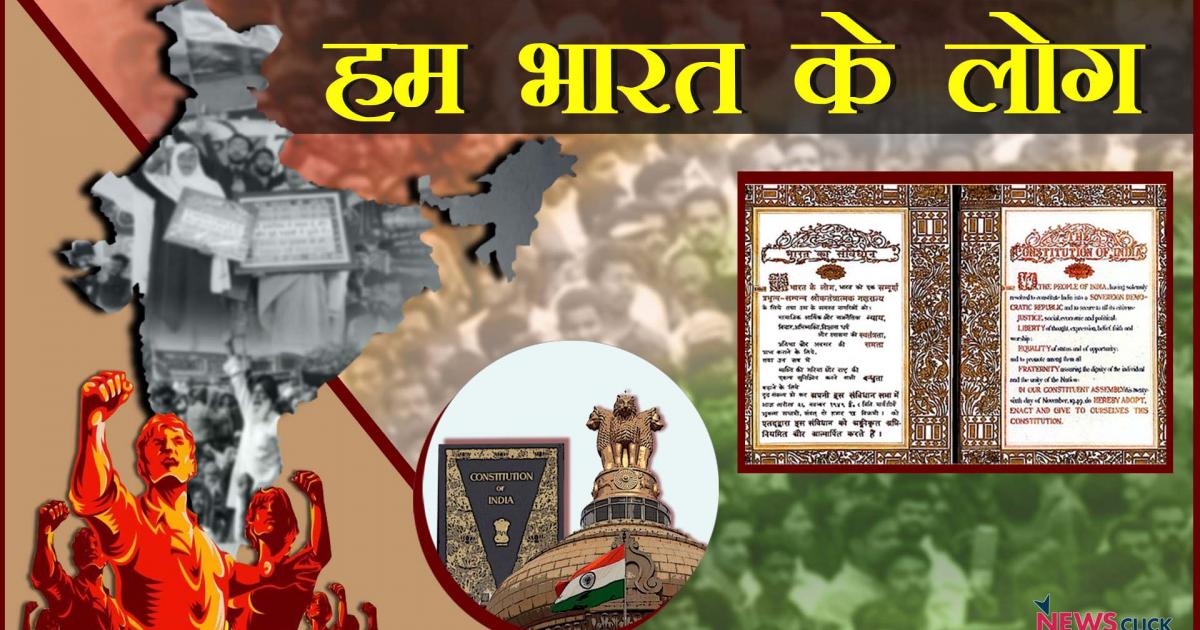 The constitution is not just a law book but it is a document giving equal rights to all the people of the country. It is the means of freedom from mental slavery. But today this constitution itself is in the biggest danger. Fascist forces are plotting to end it. In such a situation, it is necessary for the underprivileged, marginalized people and those who believe in democracy and the constitution to unite to save the constitution and democracy, to get their rights and rights.
Also read: Manu's idea hailed in the name of Constitution Day
The constitution also gives the underprivileged and downtrodden the right to live with their human dignity. For example, if we look at some articles of the constitution, it becomes clear that how important it is for us.
Article 14 of the Constitution talks about equality before law – 'The State shall not deny to any citizen equality before the law or the equal protection of the laws within the territory of India.
Article 15 states that the state shall not discriminate against any citizen on grounds of religion, race, caste, sex, place of birth.
Similarly Article 17 prohibits untouchability or untouchability and considers it a punishable offence.
Article 21 of the Constitution provides a person with a dignified life and freedom to live.
Article 39 of the constitution says that all the material wealth of the country should be equally distributed among all the citizens of the country.
The speech that Baba Saheb gave in the Constituent Assembly on 25 November 1949 is worth noting. He had said- "From 26 January 1950 we are going to enter a life of contradictions. We will have equality in politics and inequality in socio economic life. In politics we will recognize the principle of one man one vote and the value of one vote. But because of our socio economic structure we will continue to deny the one value of an individual. How long will we continue this socio-economic inequality. If we do this for a long time, we will also put our political democracy in danger. …No matter how good the Constitution of India is, if the people who implement it turn out to be bad, then the Constitution will certainly prove to be no good."
It is noteworthy that many debates took place while adopting the constitution on 26th November. Many apprehensions were expressed. For example, Seth Damodar Swaroop, a member of the Constituent Assembly, had said – "I apologize for saying something very clear and honest. Even after this legislation is made and implemented, the people here will not be satisfied at all. There will be no happiness at all, because what good is there for the poor in this law?
At the same time, Dr. Bhimrao Ambedkar had said – "We should not be satisfied only with political democracy. We should also give our political democracy the form of social democracy. To accept social democracy i.e. justice, liberty, equality and fraternity as the principles of life.
In Babasaheb's Volume 15, page 365, published by the Government of India, he expresses concern and says – "If Hindu Raj is really established in this country, then there will be a lot of danger for this country. Whatever Hindus may say, their Hindutva is a threat to equality, freedom and fraternity. Therefore it is unfit for democracy.
Babasaheb Dr. Bhimrao Ambedkar was a visionary. The challenges that he termed as obstacles in nation building at that time are still present today. For example, he expressed concern over socio-economic inequality. These problems are still present in their formidable form. We celebrate 26th November as Constitution Day. It started from the year 2015. Earlier we used to celebrate it as Law Day. It took 2 years 11 months and 18 days to prepare the constitution.
The preamble of the constitution gives us human values ​​like justice, liberty, equality and fraternity. But the people who implement the constitution do not pay attention to them. The result of this is that we see many anomalies in the society.
Jawaharlal Nehru University Professor Dr. Vivek Kumar says that – "The Constitution is not just a law book but a document of social fabric. That's why social values ​​and basic spirit should be followed literally. There should be equal distribution of the wealth of the country. Today the capital of the country has been confined in a few hands. Its right distribution is a big challenge.
Meera Sanghamitra, coordinator of the National Coordination of People's Movement, writes in the organization's "Andolan" magazine – "We the people of India have been empowered by the constitution which ensures equality, freedom, justice, socio-economic and political rights. But we are surrounded by many challenges and problems today…. The current fascist government has made them more frightening. The economy is falling, natural resources are being looted by capitalists. Jobs are being terminated. Basic facilities like health, education, water, transport are being privatised. Social security is being neglected. Laws related to land, labour, forest, environment etc are being diluted. The autonomy of UGC, RBI, CBI is being attacked.…"
Senior journalist Bhasha Singh says in one of her interviews that – "Today the Constitution and democracy are in danger. Regarding how to save democracy and constitution, I think that those who love the country, are true patriots, who follow the path of Baba Saheb Bhimrao Ambedkar, Bhagat Singh, democracy and constitution can be saved only by following their path. can be saved. But this is not an easy process either. Because Manuwadi thinking dominates all the institutions. These are called the four pillars of democracy. He has captured all the four pillars. Their judiciary, their parliament, their bureaucracy, their media. He abolished reservation. Gave lateral entry everywhere. In today's date, reservation has become a negative term. All this that is going on and the way it is going on. In such a situation, it is very important that those who believe in the democracy of the country should unite. And those who want to fight against Manuwad should unite. These people are Bahujans. These people are many. Dalits, OBCs, tribals and women are all being fed the opium of religion. The problem with this is that we are standing with the killers.
Dr. Ambedkar had shown the way at that time and lit Manusmriti. Had they been burnt in today's date, they would have been in jail for sedition. But the courage he showed at that time, the same courage, the same risk needs to be taken in today's date. If they do not take risks, then democracy will not survive. And then the mediocre barbarism in which our Indian society will go, neither we have your future nor that of your children.
Elections are about to be held in Gujarat now. There is talk of implementing the Uniform Civil Code against the basic spirit of the Constitution. Our constitution gives everyone the freedom to follow their religion. But our religious freedom is being attacked one after the other. Anti-conversion bills are being brought. Adopting the religion of your choice is becoming a crime. Dalits are being directly hit by this. Because they leave Hinduism and turn to other religions to come out of the dirty burden of caste.
Hindutva thinking can be clearly understood by the example of Aam Aadmi Party's Rajendra Pal Gautam. Rajendra Pal, a minister in the Social Welfare Department in the Aam Aadmi Party, was forced to resign from his post because he repeated Ambedkar's 22 vows.
The truth is that the Hindutva forces neither like the thoughts of Babasaheb nor the Constitution.
The Constitution talks about ending injustice and inequality on Dalits, Adivasis and other marginalized people. But the reality is different. Atrocities on the underprivileged, especially the Dalits, are increasing day by day. Many examples can be given like Khairlanji, Gohana, Mirchipur, Una. Violence on Dalits is a very minor thing for the people of the dominant caste. In Uttar Pradesh, if a Dalit boy steals a guava, he is killed as a punishment. They are put to death for leading a good lifestyle, even for having a moustache.
In such a situation, constitutional values ​​like liberty, equality, equality and fraternity become meaningless.
In today's date, it is necessary to fight with fascist forces to save the constitution and democracy. Solidarity and ideological weapons are needed to win the battle. Those who are against the fascist forces need to come together and adopt Ambedkar's ideas as a weapon.
Senior journalist Urmilesh rightly advises that Dalits should be called 'Dr. BR Ambedkar's thoughts should be read and understood by forming 'Ambedkar Study Circle' as well as they should be discussed in the group. This will increase ideological solidarity. The number of people of Ambedkarite ideology will increase. The greater the collective strength, the more the strength will increase. Fascist forces can be fought only by uniting together. Poet and agitator Prem Dhawan ji rightly says in his poem – This is the voice of time, let's go together.
(The author is associated with Safai Karamchari Andolan. Views are personal.)