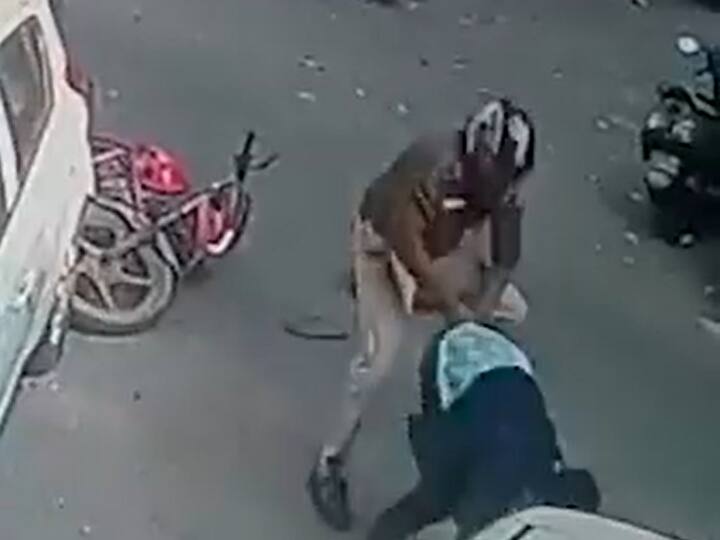 Delhi Police: The video of a brave Delhi Police constable catching a chain snatcher while running away is going viral on social media. With this arrest, Delhi Police got important information in 11 stalled cases on the basis of information received from the criminal. The video of this incident has been shared on Twitter from the official account of Delhi Police.
The constable's bravery saved a woman's necklace from being stolen. Earlier, Shahabad Dairy Police Station had informed the police about the snatching. Constable Satyendra reached the spot to find the thief.
19 second video
The 19-second video is accompanied by a caption in Hindi which reads, "Without caring for his own life, constable Satyendra of Shahbad Dairy police station arrested a snatcher. With the arrest of this snatcher, 11 cases were solved." Huh." Legal proceedings are on. It can be seen in this footage that the criminal comes from the other side. The constable slows down his bike on seeing the criminal. Seeing the policeman, the criminal gets scared and tries to run away from the spot.
News Reels
Irrespective of his own life, constable Satyendra of Shahabad Dairy police station arrested a snatcher.

With the arrest of this snatcher, 11 cases were solved.
Legal proceedings are on.@dcp_outernorth#HeroesOfDelhiPolice pic.twitter.com/PceBbYpdYQ

— Delhi Police (@DelhiPolice) November 24, 2022
criminal caught on approach
As soon as the criminal reaches the police, constable Satyendra of Delhi Police catches him. The criminal tries to escape from the hold of the constable. But despite this he is not able to run away. The brave constable is receiving praise from social media users, who wrote laudatory words in the comment section of the tweet. One user wrote, "Great. Well done, Delhi Police, proud moment." Another user commented, "You are a brave soldier, Satyendra and I am proud of you."
read this also: Delhi: India fled after killing a girl in Australia, accused Rajwinder arrested from Delhi