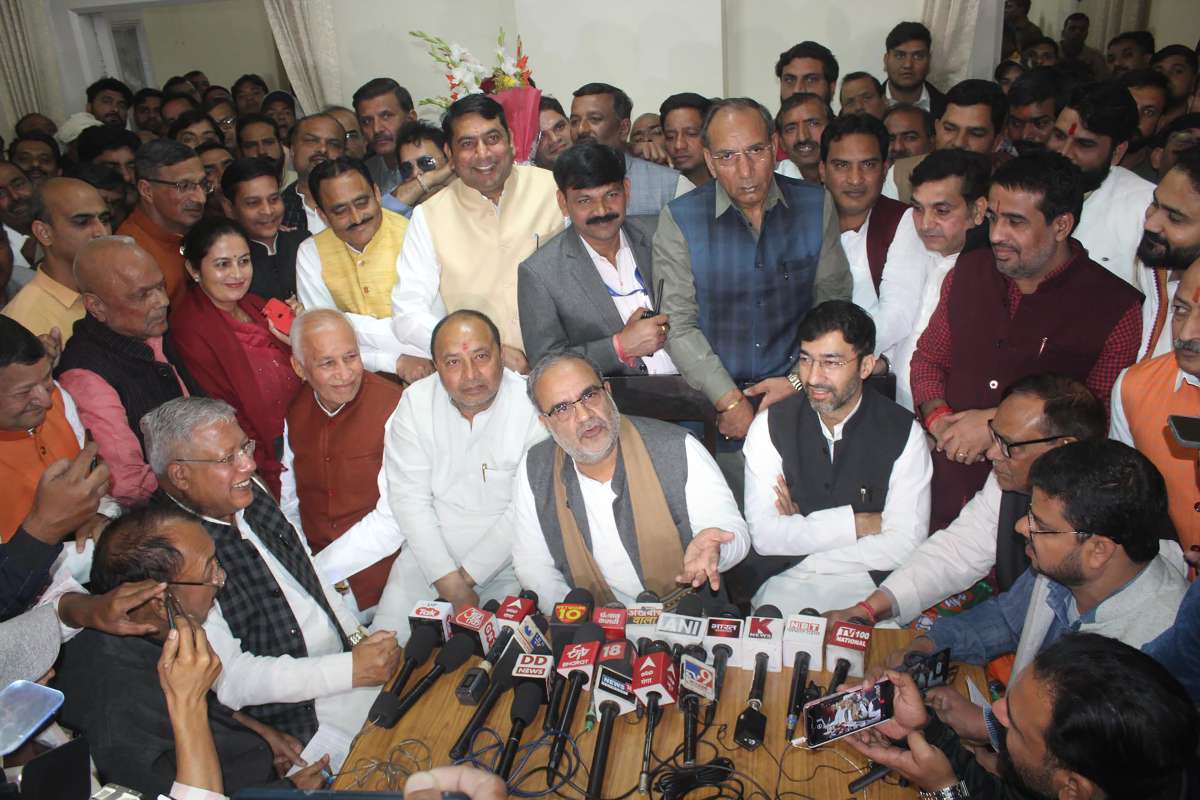 All parties are busy preparing for the by-elections to be held in UP next month. All parties are campaigning fiercely to win their respective candidates. Meanwhile, the SP-RLD alliance has suffered a jolt as many RLD leaders have joined the BJP. Senior leader of Rashtriya Lok Dal (RLD) and former regional president Chaudhary Yashveer Singh has left his party and joined the Bharatiya Janata Party (BJP). Singh joined the party along with his supporters in the presence of state BJP president Bhupendra Singh Chowdhary. Apart from Yashveer Singh, former Modinagar MLA Sudesh Sharma, Regional Organization Minister Bhopal Gurjar, Abhishek Chaudhary Gurjar, Regional President of Women's Cell Neha Sirohi, Regional President of Scheduled Caste Morcha Sanjay Jatav and many local leaders have joined BJP.
BJP claims big victory
Welcoming the leaders who joined the party on this occasion, BJP State President Bhupendra Chaudhary said that with the new leaders joining the BJP, the BJP will get strength in western Uttar Pradesh. Regarding the Khatauli by-election, Bhupendra Chaudhary said that "BJP has been getting the blessings of the people, this time also we will win with more votes." And Khatauli will also win the assembly by-election with a big margin.
Fearing the challenges, people are leaving the party: RLD
Reacting to the party leaders leaving RLD and joining the BJP, Rashtriya Lok Dal (Social Justice Forum) state president Sangeeta Dauhare said that the departure of these people will not make any difference to the Rashtriya Lok Dal as they do not have any mass base within their own constituency. Is. He said that the Rashtriya Lok Dal was strong and will remain strong. On the other hand, RLD's national media in-charge Surendra Sharma said on the question of RLD leaders going to BJP that today's era is full of challenges in politics. He said that those people who do not have the courage to face the challenges are leaving the party and joining the BJP.
Votes will be held on December 5
Due to the death of Samajwadi Party (SP) founder Mulayam Singh Yadav, the by-election is being held in Mainpuri parliamentary seat, while SP leader Azam Khan in Rampur assembly constituency and Vikram Saini of Bharatiya Janata Party in Khatauli assembly constituency are due to be sentenced by the court. After the cancellation of his membership, the by-election is being held. Voting on these seats will be held on December 5 and counting of votes will be held on December 8.
Latest India News