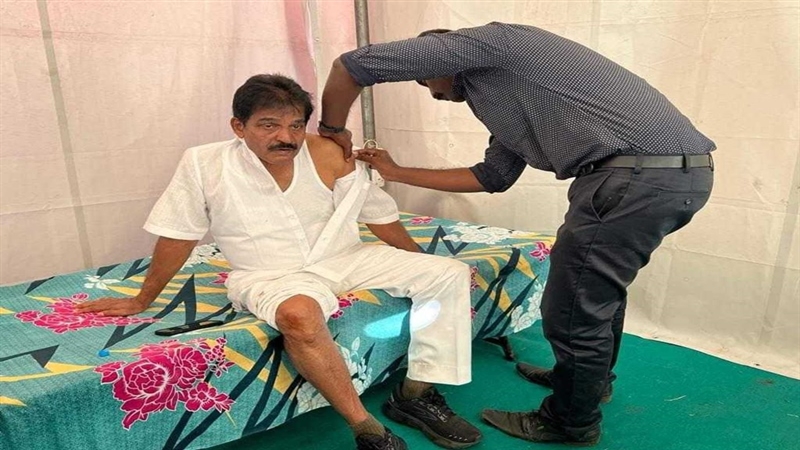 Publish Date: | Mon, 28 Nov 2022 01:15 AM (IST)
Bharat Jodo Yatra: Rahul Gandhi's Bharat Jodo Yatra has reached Indore. During this, senior Congress leader KC Venugopal, who was involved in the yatra in the crowd and jostling, got injured. Due to the fall, he has injured his hand and knee. Earlier, Congress leader Digvijay Singh had also fallen due to overcrowding. Luckily, he didn't get any major injuries. AICC Organization General Secretary KC Venugopal will also visit Jaipur on 29 November i.e. Tuesday. According to the information received, Venugopal will review the Bharat Jodo Yatra during this period. Apart from this, he will also feel the pulse of the MLAs. The political atmosphere has heated up since CM Gehlot's statement on Thursday and the Congress high command wants to resolve the issue at the earliest.
Huge crowd in Bharat Jodo Yatra
Sunday was the fifth day of Rahul Gandhi's Bharat Jodo Yatra in Madhya Pradesh. On Sunday morning, the journey started from Mhow's Dussehra Ground Markam Lane and reached Indore after Rau. Rahul Gandhi stopped at Mama's Dhaba in Rau near Indore and had tea with all the leaders. Special arrangements were made for Rahul's Nukkad Sabha at Rajbada. A large number of people were present here too. Rahul Gandhi criticized the demonetisation and GST policies of the central government in the meeting. He said that these policies have caused as much damage to the country as the Chinese army did not.
Rahul told that now he has completed the journey of three thousand seven hundred km. He said that we are not alone on this journey, the entire people of India are involved in this journey. He said that he traveled for eight hours in this city and he did not see garbage in Indore. I did not find hatred anywhere in this journey. It includes people of all classes. This journey is the journey of your ideology. He told the purpose of starting this journey.
Posted By: Shailendra Kumar