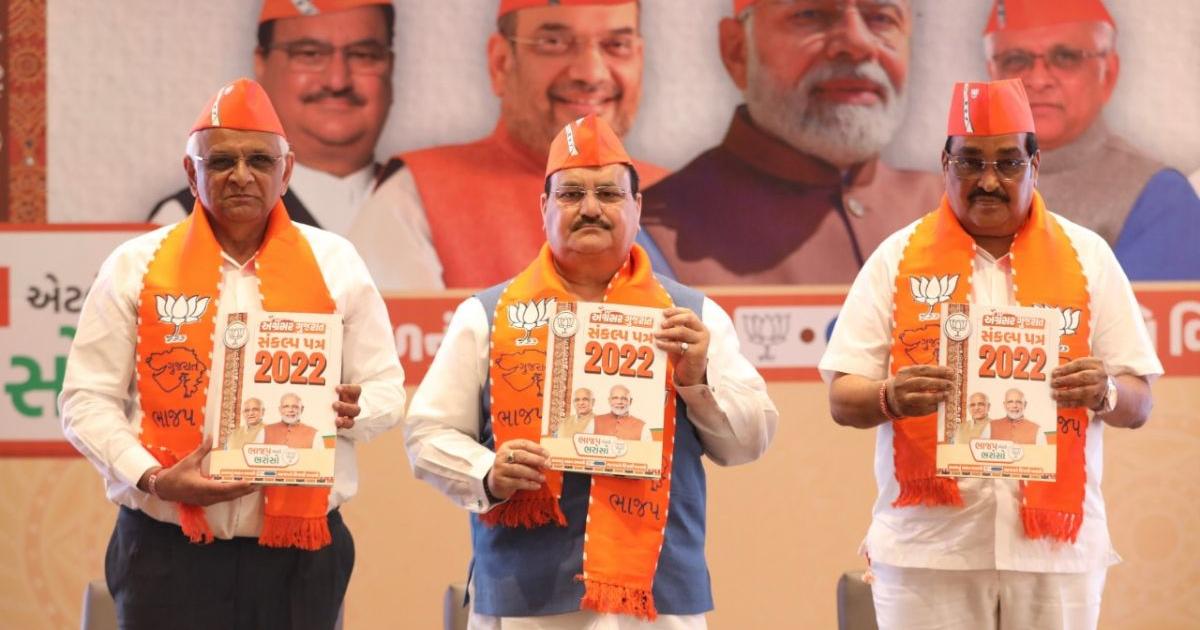 Ahmedabad: Faced with massive anti-incumbency in Prime Minister Narendra Modi and Union Home Minister Amit Shah's own state, the Bharatiya Janata Party (BJP) is facing a communal angle in Gujarat as polling day approaches for the upcoming assembly elections. Trying hard to convert.
Since voters are holding the saffron party responsible for high inflation, rupee depreciation against the dollar, Goods and Services Tax (GST) and rising unemployment apart from other local issues, the saffron party first raised the Aftab-Shraddha case from Delhi. Gujarat has pulled you. It then took up the issue of abrogation of Article 370 in Pakistan, Ram Mandir and Jammu and Kashmir, and now it proposes to create an "Anti-Radicalization Cell" and "full implementation" of the Gujarat Uniform Civil Code (UCC) Committee recommendations. Is promising
Making every effort, the party has deployed all its Hindutva hardline faces like Assam Chief Minister Himanta Biswa Sarma and Uttar Pradesh Chief Minister Yogi Adityanath as its "star campaigners" in the election campaign.
The BJP, in its manifesto released at the party's state headquarters in Gandhinagar on November 27, promised that, "We will launch an anti- Will make radicalization cell.
Talking about turning Gujarat into a so-called caste state instead of promoting it as a state that values ​​universal democratic rights, it further said, "We will ensure full implementation of the recommendations of the Gujarat Uniform Civil Code Committee."
In October, the Gujarat cabinet approved the formation of a three-member committee headed by a retired high court judge, considering the implementation of the UCC, which calls for a law for India.
Earlier, the BJP governments of Uttarakhand and Himachal Pradesh had announced the implementation of UCC in their states.
In order to curb protests, the BJP enacted the Gujarat Recovery of Damage to Public and Private Properties Act to recover damages caused to public and private properties by "anti-social" elements during riots, violent protests, disturbances, etc. planned to do.
Now that the talk of development is not convincing the voters, the party has shifted away from its "development" slogan and has started running on its tried and tested polarizing pitch. In this episode, Amit Shah said that the rioters were "taught a lesson in 2002".
Addressing a public meeting in Mahudha town of Kheda district on 25 November, Shah said, "Communal riots took place on a large scale in Gujarat during the Congress rule (before 1995). Congress used to strengthen its vote bank with such riots. Riots took place in the state in 2002 as the criminals had become habitual of indulging in violence due to the prolonged support from the Congress. But after teaching them a lesson (in 2002), these elements left that path (of violence) and there has been no riot since 2002. BJP has established lasting peace in Gujarat by taking strong action against those involved in communal violence.
Earlier, the Chief Minister of Assam had advocated a strong law to stop 'love-jihad' during a rally at Dhansura in Amreli district on 22 November. During this, he referred to the brutal murder of Shraddha Walker allegedly by live-in partner Aftab Poonawalla.
He had said, "Aftab killed Shraddha and cut her body into 35 pieces. When the police asked why he brought only Hindu girls, he said he did it because they are emotional. Aftab There are other beliefs too; That's why the country needs a strict law against 'Love Jihad'.
Warning the people, "If there is no strong leader in the country today, then Aftab will emerge in every city." He further said, "It is very important that Narendra Modi is made PM again for the third time in 2024."
During the election campaign in Morbi on 19 November, Chief Minister Yogi Adityanath talked about the Ram temple and the removal of Article 370 in Jammu and Kashmir. Referring to Ram Mandir, Kashi Vishwanath Temple and Ambaji Temple, he said anyone who has visited these places before 2014 would not be able to believe the changes that have taken place since then.
Yogi Adityanath said, "Had the Congress ruled, would the Ram temple have been built today? Narendra Modi ji and Amit Shah removed Article 370 from Kashmir."
He also called rivals of the grand under-construction temple in Uttar Pradesh's Ayodhya "opponents of Lord Ram".
Union minister Kailash Choudhary was seen taking the name of Pakistan during a rally in Surat asking people to vote for BJP.
He told the people, "Pakistan wants the BJP to be defeated and the Congress to form the government in Gujarat." During this, he appealed to vote for BJP and do not give any reason to Pakistan to be happy.
A fake report was also spread in the run up to the 2017 assembly elections in the state that the Pakistan Army wanted to make late Ahmed Patel the Chief Minister.
Dividing the society on communal lines has always been the BJP's strategy to win elections. In fact, it resulted in success in Bihar, where it resorted to advertisements stating that his opponents ate beef. It also worked in Uttar Pradesh where the party returned to power despite the farmers' agitation.
pretend on "Revdi"
Since the BJP is a petitioner in the Supreme Court against the promise of giving "Rewdi", it has meanwhile announced it in its Gujarat election manifesto.
It has promised to provide one liter of edible oil four times a year and one kilogram of gram per month to people at subsidized rates through the Public Distribution System (PDS).
The party has also announced that it will provide one-time incentive grant of Rs 50,000 to OBC/SC/ST/EWS who take admission in NIRF top ranking institute in India or across the world for higher education.
However, the party, in its petition filed in January, has prayed to the apex court to restrain political parties from giving "rewri" during election campaign.
Opposing political parties promising concessions, BJP leader Ashwini Upadhyay has said that the Election Commission should cancel the registration of such parties.
Click on the link below to read the report originally published in English:
Anti-Radicalisation Cell and UCC: BJP Resorts to Polarization Ahead of Gujarat Polls