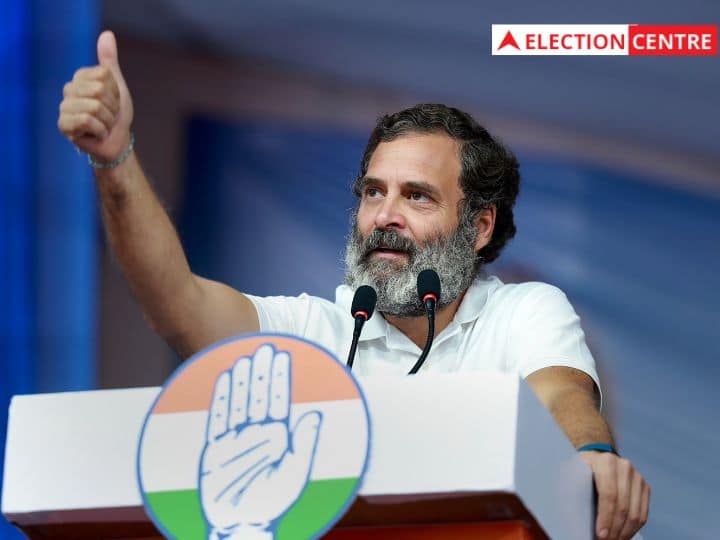 Gujarat Assembly Election 2022: Big leaders of all parties have been busy campaigning for the Gujarat Assembly elections for several days. In the same week, Congress MP Rahul Gandhi also took charge of the campaign in Gujarat. Rahul Gandhi started the election campaign on November 21 by holding public meetings in Surat and Rajkot in Gujarat. The Congress MP had reached Gujarat stopping the Bharat Jodo Yatra midway.
For many days, BJP leaders were asking the Congress that the election is in Gujarat, so why is Rahul Gandhi traveling in the southern states? When will he come to Gujarat? However, Rahul Gandhi came to Gujarat, held a rally and also targeted the BJP fiercely, but will Rahul's campaigning change the climate of Gujarat. Or did Rahul Gandhi delay in coming to Gujarat? Answers to all these questions have been found in the survey of ABP News-C Voter.
last weekly survey of gujarat election
C-Voter has conducted a weekly survey for abp news to know the mood of the people of Gujarat. This is the last weekly survey because the first phase of elections is going to be held in Gujarat on 1st December. In the first phase, there is voting on 54 seats in Saurashtra and 35 seats in South Gujarat. For this, the noise of propaganda will stop on 29th November. Opinion of 1 thousand 889 people has been taken in this survey. The survey has been done from Wednesday to Friday. The margin of error in the survey is plus minus 3 to plus minus 5 percent.
News Reels
Rahul fails in Gujarat?
C-Voter asked the question in the survey whether the campaigning of Rahul Gandhi will change the wind of Gujarat? The very surprising results of this question have come to the fore. In the survey, 41 percent people said that yes, the climate of Gujarat will change due to Rahul's campaign. While 59 per cent people believe that the wind of Gujarat is not going to change even with Rahul campaigning. These figures of the survey are going against the Congress MP.
Will Rahul's campaign change the wind of Gujarat?
Source- C Voter
Yes – 41%
No – 59%
Note: C-Voter has done this survey for abp news. The results of the survey are completely based on the interaction with the people and the opinion expressed by them. abp news is not responsible for this.
read this also-
Gujarat Election: 'We have no status, we are people who walk by bowing down', PM Modi's counter attack on Congress